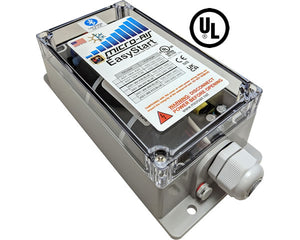 EasyStart™ 364 Soft Starter
Regular price
$299.00
Part Number:
ASY-364-X20-IP
Vendor:
Micro-Air, Inc.
Shipping Weight: 3.0 lb
EasyStart™ - The most advanced & effective soft starter for all A/C applications
EasyStart™ is a one-of-a-kind, custom-developed soft starter for single-phase motors. It employs a 4-part start ramp sequence that is self-optimizing, resulting in the lowest possible start-up current. EasyStart can deliver 65-75% start current reduction as compared to a compressor's LRA (locked-rotor amperage). EasyStart is the perfect solution that allows an air conditioner or refrigeration compressor to operate on a generator, inverter, or limited utility power when it would otherwise not have functioned. It can also be applied to air compressor and fluid pump motors.




    

Guides & Information

EasyStart 364 Installation Guide

Additional Resources
Easy Start your A/C without buying a second or bigger generator or inverter
Run 2 air conditioners on a 30-Amp cord. (Note: Each A/C requires an EasyStart unit - Results depend on the power management system and the

total amperage MUST be less than 30 AMPS and does NOT reduce running AMPS.

Sleep, with less noise, and cool all through the night
Run your A/C with more appliances at the same time
Add an A/C unit at low cost by putting an inexpensive EasyStart on each. Avoids expensive rewiring of the entire RV to upgrade to 50-amp.
Convenient installation kit for wiring an RV Rooftop A/C unit is available. (sold separately)
Has numerous specialized fault checks not found in any other soft starter to provide further protection for your compressor.
The EasyStart includes a unique water resistant and UV protected enclosure with an integrated mounting flange.
Specialized models exist for various applications.
All of our EasyStart 364 models come equipped with side-angled "flag connectors to attach to the run capacitor in your installation. They work well in any limited space. If you prefer, you may clip them off in favor of your preferred connector.
Transparent Enclosure Dimensions:
7.64L x 3.58W x 2.50H in (194L x 91W x 64H mm)
Wire Harness Length:
IMPORTANT INSTALLATION NOTE FOR CRUISAIR® MARINE CUSTOMERS ONLY:
When installing EasyStart into 220-240V SMX A-288/282/281 control applications that use the triac to switch power to the compressor, it is necessary to replace the triac with a relay. If the triac is not replaced, the EasyStart and any pump relay triggers may suffer damage and ultimately fail. A replacement relay specifically designed for this application is available at this link. Please note that this is not required for 115V SMX applications, and the triac is still safe to use.
Will EasyStart allow me to start and run my 13.5K or 15K RV A/C on a Honda EU2000i?
Yes, but one must exercise some fairly strict power management since many A/Cs can consume 1700-1900W in hot weather. Also, the Honda EU2000i may not have enough power at or above 4000' altitude. (Rejetting the carburetor may extend this higher.) We have many satisfied EasyStart customers using this Honda generator with all brands of rooftop air conditioners. EasyStart starts and runs these compressors even with the generator's ECO mode turned on. What about using one of the many other inverter generators on the market competing with Honda? All generators are not created equally and in some cases, you get what you pay for. Your best source right now is to search the many blogs and message boards on the net and check the reviews for the generator you are interested in.
Will Easy Start operate from my solar inverter?
EasyStart has been tested with a few good quality inverters and has been successful in quite a few customer installations. EasyStart reduces starting current to less than twice the running current of the compressor, so EasyStart works perfectly in a well-designed system.
How difficult is installation in an RV?
EasyStart mounts inside the rain shield on a rooftop unit. The wires are run to the electric box and connected to four points in the box. We have many wiring diagrams available for rooftop units and in some cases complete installation guides. Although most customers install EasyStart themselves, a few opt to have it installed by their RV dealer, HVAC technician or electrician.
Will EasyStart void my compressor warranty?
Some RV owners worry that their installation of an EasyStart 364 might in some way void the manufacturer's warranty on their rooftop AC unit's compressor motor. Legally, it shouldn't. But you never know what a manufacturer might assert. Micro-Air is quite confident that its product cannot damage your compressor. We do recommend that if you have a potential warranty issue that you consider removing EasyStart to avoid any issues related to its installation. We do offer an Extended Warranty
Will Easy Start shorten or extend the life of my compressor?
No. EasyStart operates only during the start of the motor then switches itself out of circuit. Since most compressors fail mechanically before they fail electrically, EasyStart does not change the longevity of the compressor.
What does 3-ton mean?
This means an EasyStart rated for 3 tons can operate a compressor up to 36,000 BTU of heating or cooling capacity. The standard EasyStart models easily handle the typical 13.5K or 16K air conditioners found in many applications.
Will EasyStart work with centrifugal switch motors like water pumps and air compressors?
While we have been successful installing EasyStart in some applications, others do not allow access to the motor windings or are a different configuration that is not supported. We do not recommend installing it for a single motor however OEM's and dealers looking to install several units should contact Microair to discuss the application further.
Is there a three-phase model?
No, EasyStart is single phase only.
Will Easy Start work with my refrigerator?
Possibly. The compressor must equalize the pressures within the 5-minute restart window. This may require installing an expansion valve with equalization some systems.
WARNING - California Proposition 65
---
More from this collection