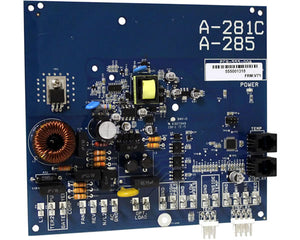 A-281C Control Board
Regular price
$350.46
Part Number:
ASY-555-X0A
Vendor:
Micro-Air, Inc.
Shipping Weight: 1.0 lb
Replacement A-281C control board | 85 To 240 Volts
The A-281C Control Board is part of a legacy DX cabin control system sold in the mid-1990s. This is a newly manufactured, footprint-compatible replacement that operates identically. The display interface can either be the legacy, 4-conductor cable with a Molex connector on each end, or it can be the newer 6-conductor RJ-12 cable with straight-through wiring.

Shown with Pin Connectors. (Most units before year 1999)

** Chilled Water Customers **
- When ordering this part please add a note to your order (in the shopping cart) requesting that the board be "chilled water enabled".
- Click the "Update Cart" button after typing your note. -

Guides & Information
This board was used in Cruisair systems in the 90's and early 2000's. Original boards were 7" x 6.25" [17.8cm x 15.9cm]. It featured a four-pin display jack and three pin sensor jack that usually protruded out an opening in the enclosure. There was a distinctive line of spade connectors along one side of the board running the entire length.

Original boards were typically marked with the number 42403 on the board and typically had either A-281C or A285 marked as well. This board replaces Cruisair part number 42403 and Dometic part number 701800007 control boards. It also features the newer six pin display connector so it can be used to upgrade the display to the SMXIIir without using an adapter.
Our New board will look similar with some changes and up-grades in the latest revisions.
Our A-281 C board also replaces the A-285 board, legacy boards with mfg p/n 42403, and legacy boards with mfg p/n 701800007.
A-281 C Power Logic Control Board:
Completely new design.
Replaces similar DX SMX power/logic board discontinued by Cruisair®.
Original footprint and connection locations.
Legacy 4 conductor cable molex connector or 6 conductor RJ-12 display connector.
Multi-voltage 100-240VAC operation.
Retains all original software and hardware functions.
Dual voltage so you only need one trigger to replace either type.
Replacement OEM A/C Controls
Better Than The Originals
Identical Operation
Newly Manufactured
Footprint-Compatible
WARNING - California Proposition 65
---
More from this collection