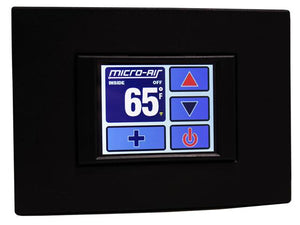 EasyTouch™ OEM Control Display
Regular price
$327.89
Part Number:
ASY-389-X50
Vendor:
Micro-Air, Inc.
Shipping Weight: 10.0 oz

Micro-Air EasyTouch™ OEM Control Display - WiFi available
The EasyTouch™ Display Control is Micro-Air's newest and most advanced marine display control, employing the very latest in microcontroller and TFT (thin film transistor) LCD technology. You also get your choice of WiFi-enabled or not enabled versions, allowing your remote control of inside air temperatures with your smartphone or other device.

It has a user-friendly, 2.5" color, touch screen and is designed for use with marine air conditioning systems of Dometic®. It doesn't care if your system is a direct expansion, reverse-cycle air conditioning systemor a chilled-water air handler. It even offers a PIN code to limit others from adjusting the temperatures.

This Control Display works with the Dometic® Passport I/O Control Board and the Dometic® U Board. If you intend to switch control boards, you should consult our EasyTouch™ product selector below. It can be paired with our black cover plate/bezel and our EasyTouch™ Custom Logo Cable enabling uploads to the sleep screen of your cabin controller.

EasyTouch has numerous unique features previously unavailable in the marine HVAC industry.

WiFi Requires onboard router for dockside and open ocean use

Guides & Information
Control Boards
Dometic® Passport I/O Control Board
Dometic® U Board (Unity)
Display Cables
8-Conductor: SUB-031- (Length in ft)
Bezel (cover plate)
EasyTouch™ Cover Plate/Bezel : MIS-390-X01

Support Notes Below:

Does NOT support humidity sensor.
Fully compatible with legacy Passport I/O control boards and legacy Unity (U) board manufactured by Micro-Air, but any alternative Unity board sold by Dometic since 2019 may not function with EasyTouch OEM if the cable length is more than 30 feet.
The Easy Touch "OEM" version is compatible with the 8-pin cabin controls sold by the popular OEM A/C manufacturer, Dometic®.
User-friendly and intuitive 2.5" touch screen display requires no manual for basic operation
Provides all operational features and modes of any cabin control in the industry, plus many more
Fits Vimar® Eikon and Eikon EVO bezels (NOTE: Bezel is not included and can be ordered separately at this link)
Built-in inside temperature sensor
8-pin RJ-45 display interface
Numerous programmable parameters and system for custom installations
Date/Time Clock for use with Program Scheduler (w/ battery backup)
Advanced system status screen and 500-entry, time-stamped fault history log
Adjustable display brightness, color schemes, and customizable sleep screen logo
Unique keypad PIN lock, commission procedure, and cleaning mode features
Supports loading a custom image for display during sleep mode (requires special USB cable & PC software)
This version available with optional integrated Wi-Fi for operation from the EasyTouch smartphone app with router onboard, whether at the dock or in the deep blue sea!

(Requires onboard router for dockside and open ocean use.)
Use Your Smartphone to Manage Your Marine Thermostat via Wi-Fi, on or off the boat
The Easy Touch OEM version is compatible with and automatically detects all legacy Marine Air Systems® Passport I/O control boards
24/7 Humidity Monitoring Keeps Your Boat Dry
Run DX equipment and TW Air Handlers with One EasyTouch™ Control
Additional Resources:
WIFI Routers for RV's and Boats
Micro-Air is not associated with the Mobile Internet Resource Center or its management.
Vimar and Eikon are registered trademarks of Vimar SpA. Marine Air Systems and Passport are both registered trademarks of Dometic Corporation



What control board is EasyTouch 389 compatible with?
EasyTouch 389 is compatible with passport i/o control boards. Click on the manuals and resources tab on the EasyTouch product page and open the manual for more information.

Can EasyTouch be used with a fresh air makeup unit?
Yes, EasyTouch can monitor the incoming and outgoing air and make changes to heaters, compressors, water valves and fan speeds to help control onboard humidity levels.

Do I need internet access to use EasyTouch WIFI?
No, EasyTouch WIFI connects wirelessly to your onboard router. As long as you can connect to the router locally you can access any EasyTouch control.
WARNING - California Proposition 65
---
More from this collection