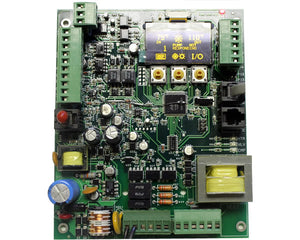 Hydromatic II Control Board
Regular price
$464.20
Part Number:
ASY-250-X0G
Vendor:
Micro-Air, Inc.
Shipping Weight: 15.0 oz
Hydromatic II Control Board

The Hydromatic II is a new and advanced control system for multi-stage marine chillers. It employs the latest technology with CAN Bus networking capabilities, and offers advanced control with many sensor monitoring options. It can also be configured for use with a color touch screen panel PC, built into a custom control electrical panel with power distribution wiring, circuit breakers, contactors, etc.

Guides & Information
This is a replacement board for Hydromatic II controls used in some chilled water systems. Boards should look very similar to the one pictured including connectors and jumpers as the design has changed very little.
Modular system for controlling one to eight compressors
Universal 115/230 VAC 50/60 Hz power supply
Integrated OLED display with 3-button interface
Factory reversible display permits access from outside the electric box
Auxiliary voltage input for all control outputs
Optional stage current sensing and over current shutdown
Optional high/low refrigerant pressure transducer inputs
VFD (variable frequency drive) dry contact output
MODBUS input for VFD monitoring
Electric/Reverse-Cycle heating based upon sea water temperature
Automatically equalizes compressor run times in multistage systems
Individual loop water flow switch inputs for each compressor
Simple CAN Bus two-wire connection between stage control boards and the pump control board
Compatible with AirNet 5 (for LAN or internet access)
Please contact Micro-Air at 609-259-2636 for more information on custom chiller control panels.
WARNING - California Proposition 65
---
More from this collection