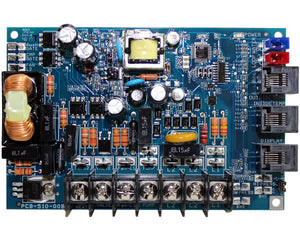 MAQ Control Board
Regular price
$356.40
Part Number:
ASY-510-X01
Vendor:
Micro-Air, Inc.
Shipping Weight: 15.0 oz
Replacement OEM A/C Controls - Improved Micro-Air Marine Redesigns
The Micro-Air MAQ board is a newly-manufactured, footprint-compatible, and functionally-compatible replacement control board for the popular Q-Logic cabin control used in marine applications. Its design, components, and reliability are superior to the OEM original.

The MAQ supports all of the same displays, uses the same 6-pin RJ-12 (straight through) display cable, and the uses the same 3kohm thermistors.

Guides & Information

NOTE: Chilled Water Systems – Refer to Above Document
This board is 5.8" x 3.6" [14.7cm x 9.1cm]. It features a seven screw terminal electrical block and three 6-pin connectors on one end for display, inside and outside temperature. Factory boards may have either of the red or blue connectors or none at all. Most wiring connections are made to the spade terminals on the board.

The board is compatible with Cruisair/Dometic Q-Logic control systems. It replaces Dometic part number 701800004 control boards. This board varies slightly from the original so please consult our replacement reference document for details during installation.
Better Than The Originals
Identical Operation
Newly Manufactured
Footprint-Compatible
Can these boards be used for new installations?
No these boards replace existing installations only.
Which boards do they replace?

ASY-510 replaces the Q-Logic control board.
Is the board a direct replacement?
Yes it looks slightly different from the original board but the connections and mountings are all the same.
Are these boards dual voltage?
Yes they operate from 85 to 240 volts AC
Do I need a different board for air handler or direct expansion systems?
No. There is removable jumper on the board for easy selection.
WARNING - California Proposition 65
---
More from this collection