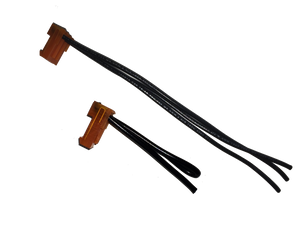 Pressure Switch/Sensor/DC Fan Connectors
Regular price
$1.65
Part Number:
SUB-072-X00
Vendor:
Micro-Air, Inc.
Shipping Weight: 4.0 oz
Pressure Switch/Sensor/DC Fan Connectors

All of the Micro-Air cabin control boards use a 3-terminal pressure switch connector. A permanent jumper version for the high pressure switch or a wire-splice version for retrofit are available.

The FX-2 Control Board also uses a 2-terminal connector for the service temp sensor and for the DC fan control output.

Guides & Information
This is the orange low and high refrigerant plug provided with many replacement boards.
WARNING - California Proposition 65