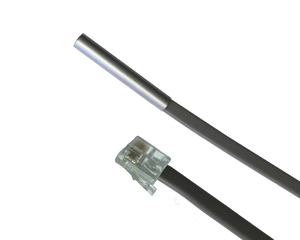 Sensor - Air Temperature
Regular price
$33.85
Part Number:
SUB-032-X05
Vendor:
Micro-Air, Inc.
Shipping Weight: 8.0 oz
Sensor - Air Temperature

This sensor consists of an aluminum housing with epoxy-encapsulated thermistor.

Other lengths are available beyond what is listed here.

Guides & Information
This is the optional thin sensor supplied with some systems. It should not be used in applications where direct water contact or condensing humidity is repeatedly encountered. The brass enclosure gives it good thermal conductivity and temperature response performance. It has a high immunity to vibration damage. It has a nominal 10k ohms@ 25°C.
Dometic Passport IO, passport II, Passport I, ECU, MTV-IV, DDC
Micro-Air FX-1, FX-2, MCC, Hydromatic I
WARNING - California Proposition 65
---
More from this collection