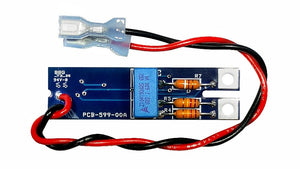 MA Replacement Trigger
Regular price
$74.84
Part Number:
ASY-599-X01
Vendor:
Micro-Air, Inc.
Shipping Weight: 6.0 oz
Replacement Dual-Voltage Marine Pump Relay Triggers

Compatible with Cruisair OEM control boards using TR115 and TR230 triggers Micro-Air's MA Replacement Trigger is a newly manufactured, footprint compatible and functionally compatible replacement trigger for use in the popular pump relay boxes for marine applications.

Its design, components and reliability are superior to the OEM originals.

The MA Replacement Trigger is dual voltage. This part works in either 115V or 230V applications.

Also, it uses a totally solid state design. Without any moving parts, there is no mechanical relay to buzz or chatter, and possibly fail.

Guides & Information
Completely new design eliminates the flaws that caused the old triggers to fail.
Perfectly compatible with the Cruisair TR115 and TR230 triggers.
Totally solid state design.
No more annoying buzz or relay chatter.
• Superior reliability to original OEM design.
WARNING - California Proposition 65
---
More from this collection