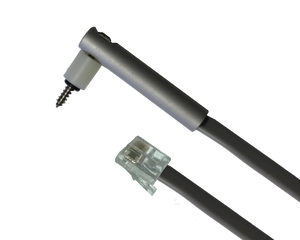 Sensor - Outside Air Temperature
Regular price
$65.45
Part Number:
SUB-022-X07
Vendor:
Micro-Air, Inc.
Shipping Weight: 8.0 oz
Sensor - Outside Air Temperature

This sensor consists of a bolt-through, aluminum housing with epoxy-encapsulated thermistor.

Other lengths are available beyond what is listed here.

Guides & Information
This is the optional outside sensor supplied with some systems. The aluminum enclosure gives it good thermal conductivity and temperature response performance. It has high immunity to vibration damage and has a nominal 10k ohms@ 25°C. There is a hole in the sensor provided for easy mounting in any location.

The sensor should be installed in an area that protects it from weather damage. Compatibility: Dometic Passport IO, passport II, Passport I, ECU, MTV-IV, DDC Micro-Air FX-1, FX-2, MCC, Hydromatic I
The thermistor and the 6-pin RJ-12 modular plug is compatible with all of Micro-Air's cabin controls.
WARNING - California Proposition 65
---
More from this collection