• Micro-Air Sales Administrator
Vinnie's Northbay Airstream finds EasyStart™ 364 "kinder" Vinnie Lamica is chief cook and bottle washer at Vinnie's Northbay Airstream Repair, about two hours from San Francisco.  That's no exaggeration, he is a one-man shop who uses a helper just one day a week for jobs requiring four hands!  "With me, you get the guy who will work on your RV," said Lamica.  In his "prior life," he was a Volvo tech specialist sent out to dealers to find and fix difficult-to-diagnose problems and was later employed in Mercedes dealership management.  But always, he was an Airstream owner.  Attending rallys, he...
---
• Micro-Air Sales Administrator
The Micro-Air Connection To Solar Panels, Batteries, Inverters, Generators And A/C Oregon was one of the nation's best kept secrets for decades.  Well the secret's out and AM Solar is partly responsible! Since 1987 the EasyStart dealer from Springfield, Oregon excelled in the solar power business for RVs, boats and other applications like off-grid and tiny homes, as well as residential uses---some centered around emergency power applications and air conditioning.  It offers solar panels and other equipment, including lithium batteries, inverter/chargers and monitoring in its complete do-it-yourself solar kits. The power reducing requirement of the EasyStart 364 permits longer running on battery...
---
• Micro-Air Sales Administrator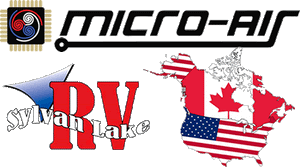 Canada, Dubai, England, Russia, Turkey, Australia , Italy. When it comes to Micro-Air and its RV and Marine parts, these countries have one thing in common: they all host Micro-Air distributorships! "Dealerships are our lifeblood and, although we have a reputation for doing it well, they remove that layer of customer service from us," said Micro-Air owner Andy Spaziani. "Distributorships boot that up to the next level as they address issue with the dealers, allowing us to focus on new product development and quality manufacturing. We are proud to announce this strategic distribution partnership." Sylvan Lake RV, the Alberta-based new...
---
• Micro-Air Sales Administrator
The exacting marine and RV parts manufactured by Micro-Air are the product of years of conceptualization, design, testing and construction.  We build our parts right here in the USA and we do it by hand, and on surface mount technology (SMT) machines which produce electronic circuits placing components on printed surface boards.  This year it was "out with the old and in with the new."  Micro-Air turned to Manncorp to meet its growing automatic assembly and production requirements.   Founder Andy Spaziani sought to increase production speed and efficiency in the now-expansive recreational air conditioning market.  "Manncorp offered us the perfect...
---
• Micro-Air Sales Administrator • 2019 FMCA • FMCA 99th • FMCA Rally • FMCA99 RV Show
WE'RE ON THE ROAD AGAIN. IT'S SHOWTIME!Micro-Air is fresh off its EasyStart™364's selection as a top 5 finalist for the RV Business Magazine's RISE Award, Micro-Air is on the road again. (Take THAT Willie Nelson.)From March 13-16 Micro-Air will be attending "Peachy in Perry", the 99th Annual Family Motor Coach Association (FMCA) Convention at the Georgia National Fairgrounds and Agricenter in Perry, Georgia. Widely regarded as an exciting location for assembly, the Fairgounds are perhaps best known for its October Georgia National Fair. The facility also hosts events that range from concerts and animal shows to antique and agriculture exhibitions....